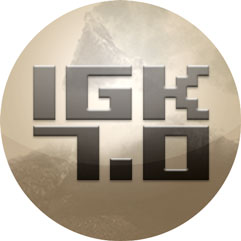 Good news! Both the iOS Game Creation for Beginners and the Action RPG Engine game starter kits have been updated for iOS 7. In addition, the included version of Cocos2d-iPhone has been updated to the 2.1 stable release.
Downloading the Updates
If you're an existing customer, it's easy to update to the new version(s). Just make sure you've registered on this website with the same email you used to purchase with, then login and click the main Downloads link. For more help, check this forum post.
Apple's iOS 7
People have been asking if all the new graphical changes to iOS 7 will impact Cocos2d apps. Actually, iOS 7 will have no impact to most Cocos2d apps because they are full-screen. All user interface elements that a Cocos2d app uses are typically custom built. The less common apps which use a combination of both Cocos2d and Apple's UI Kit might need to be updated, depending on which UI elements are being used.
In any case, it's a good time to review your app and make sure everything is iOS 7 compatible and that your graphics mesh with the new look.