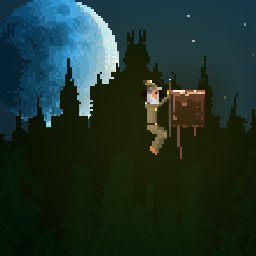 Player, Characters, Items and other Objects
The Player object implemented for the demo game can walk, turn, jump, fall, land, crouch, stand up, hang from edges, aim in eight directions, fire projectiles, swim, climb ladders, step up stairs, be given items, perform special animations, get knocked out and knocked back.
Each Character, Item, all the objects in the game have a Profile property list which parses a format string to load many spriteframes into an animation, preloads sound effects needed by the object and specifies any attributes for the default object class. You can setup a ninja property list, for example, that auto-loads a walking animation with 8 frames, 7 different sound effects and specifies that ninjas have 10 hit points and deal 2 damage by default. Attributes can also be overriden by TMX object properties. So creating a ninja object and giving it an hp property of 15 will override the default 10 hitpoints.
Object types: Player, Item, Chest, Platform, JumpPad, Box, Slope, Door, Debris, Fire, Decal, Particles, Terrain (water, ladders, etc.), MagicMissile, Bone, EnergyBall, Squirrel, Blob, Knight, Jellyfish, Mage, Skeleton, Sasquatch and BotPlayer.
Object properties: x, y, width, height, name, id, tag, scale, z, background, hp, damage, music, onDeath.