Lights. Camera. Action!
Learn the intricate mysteries of making complex games.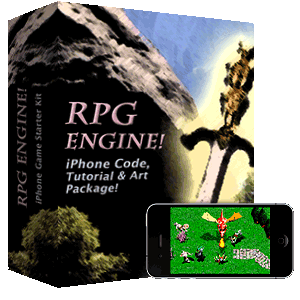 Do you have your mind set on building an RPG? Do you drool over the perspective of creating your own fantasy setting packed with wizards and damsels in distress, or maybe that post-apocalyptic world where zombies eat humans and dinosaurs eat zombies?
While building an RPG there are plenty of things to keep track of: multiple types objects that interact, player input, sprite drawing and lots more. What the RPG Starter Kit does is provide a comprehensive set of classes and tools to manage most of the hard work involved in creating an RPG. Scenes, attributes, characters, enemies, chests and abilities are all outlined and ready to be used. And if you need more advanced functionality, additional items or a different character you can always extend and adapt the code to anything you fancy.
Included on this Starter Kit are a 60-page booklet that covers the theory and the creative process involved in making a game. Bundled too are the stand-alone, easily extensible RPG engine built on Cocos2d iPhone and a fully working sample RPG called Quexlor Lite, where you can see (and manipulate!) how all the pieces come together. Also included are detailed, Doxygen-generated documentation to everything included, and an Xcode template project you can use for your own game. Oh, and we are even tossing in a complete set of 2D sprites and textures made by german artist Reiner Prokein, so you have all the art that you need to get you started. Over 100 hours worth of coding, plus graphics and the book! And everything ships with a flexible license that let you reuse, modify and publish any part of it.
This Starter Kit assumes you are familiar with a thing or two about developing on the iPhone, such as Objective C syntax, Cocos2d basics and Xcode usage. So
if this is your first iOS game, we suggest you go check out the iPhone Game Creation for Beginners starter kit
. It will guide you through these and all the other subjects that are not covered in this Kit.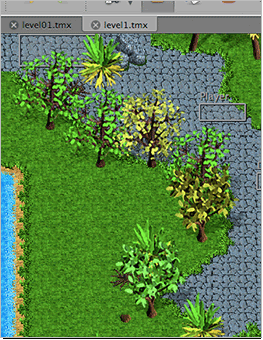 It's like 3rd grade all over again!
Tilemaps are the bread and butter of any game, especially an RPG. You'll need levels after all, won't you? And there's more to tilemaps than just terrain: you'll need obstacles, enemy locations, warp zones, spawning points, chests and everything else the player is going to find while exploring your game. That's exactly what tilemaps are for: we create the logic of the game in Xcode, and bring the game to life in a tilemap.
In this module you'll learn how to use Tiled, an incredibly flexible and free tilemap editor that you can use to make not only RPGs, but any kind of game you can think of. And with the massive artwork library that's included, you will be able to quickly choose among hundreds of textures, characters, objects and everything you need to populate your maps.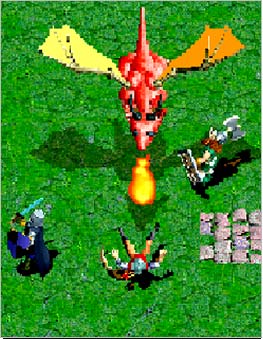 Leverage the power of experience!
We are saying that the RPG Kit will jumpstart your game project. But what does that exactly mean? We are sure you'll better understand this as you move forward with your project, but here's a little preview:
You get the RPGLevelObject class, that manages object creation on your game. An RPGLevelObject has several advantages over a plain CCNode, including the possibility of loading attributes from an external source, including .plist files and save games. Actually, if you feed the engine with attribute lists, and create a tilemap to accomodate it all, you could create an entirely new game without ever touching a single line of code. How cool is that?
There's also extendable AI class that will help you breathe life into enemies and NPCs. An implementation of A* Pathfinding allows human and computer-controlled characters find their way across any terrain, and you can use moods to set creature behavior.

As in "lots of them"
iOS devices have come a long way since the first, primordial iPhone came to be: there's a wide range of models available today, and each use a different display. You have 480x320 on older iPhone models and 960x640 on newer; 1024x768 on the iPad, and 2048x1536 on the new iPad Retina screens. Throw in different screen ratios and external screen support, and you are in for a shaky ride!
Luckily, Cocos2d helps us get past this bump and on this module you'll learn how to make your game look its best, no matter what screen it displays on. Feeding a different set of graphics to different devices, you make sure you take full advantage of higher resolutions, while still looking good on older screens.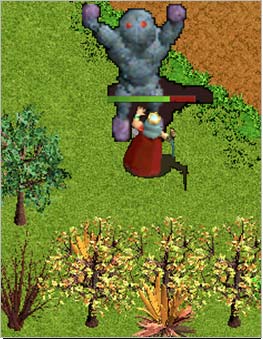 The more you understand, the better.
By reading the included ebook, skimming over the included example RPG source code, and browsing the Doxygen-generated class reference, you'll gain a deep understanding of how a game as complex as an RPG is put together. You can use this understanding to make your own advanced game world.
All the source code is written in the elegant, iPhone-native Objective C language. You'll need to have a basic understanding of Objective C, Xcode and Cocos2d for the source code to make sense.
When you've got a grip on how everything is put together, you can use the included template project to quickly start your own world. With the example game source code as a guide, you'll have your world buzzing with creatures in no time.